Du corps à l'homme. Retour sur ANECKXANDER d'Alexander Vantournhout et Bauke Lievens
D'abord du silence. Un plateau presque nu, assez froid. Un sol blanc et quelques accessoires posés dans les angles, sur des bords, laissés là.
Et puis un homme, enfermé dans un costume juste un peu trop grand, qui déambule nonchalamment, sans but ?

Soudain un élan, une partie du tapis blanc s'envole devant l'homme et retombe au sol, avec le costume de l'homme.

La nudité entière, pure et simple, nous surprend. Le corps est là, avant l'homme, livré sans apparat aux regards des spectateurs. Une étrange solitude en émane. Il cherche à nous montrer sa difformité, et à la dissimuler.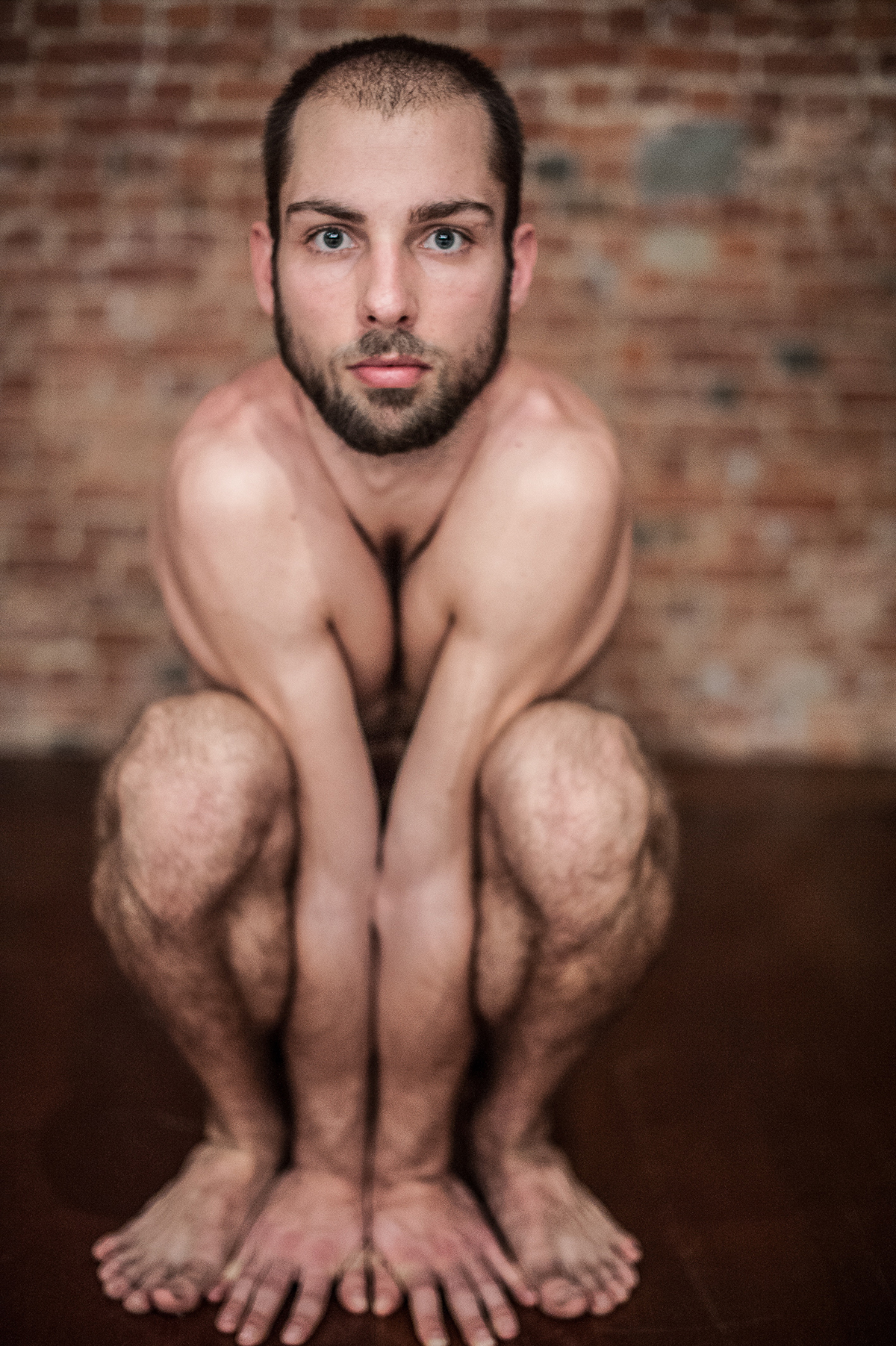 ©Bart-Grietens

Lentement, continuellement, le cou s'étire. L'acte est comique et accompagné de quelques rires dans la salle. Moi-même je ne peux empêcher l'image de la victoire de la Tortue dans sa course contre le Lièvre.

Puis le corps se tord, chute, se disloque. Les membres se confondent, abandonnent leur utilité quotidienne et habituelle. On perd de nouveau l'homme.

Un piano/synthétiseur en fond de scène, à jardin. L'homme accroupi, dos à nous, joue quelques notes mélancoliques. L'air se répète tandis que le corps entre dans un cycle de performances physiques, acrobatiques, redoutables.
Au fur et à mesure le corps s'habille mais ne se couvre pas. Les pieds plantés par d'épaisses chaussures à plateformes, les mains supprimées par des gants de boxe et enfin le cou, le "neck", simplement orné par une collerette tout droit sortie de la Folie des grandeurs.
Le corps a perdu ses appuis. Malgré tout l'homme virevolte, en douceur et en fracas.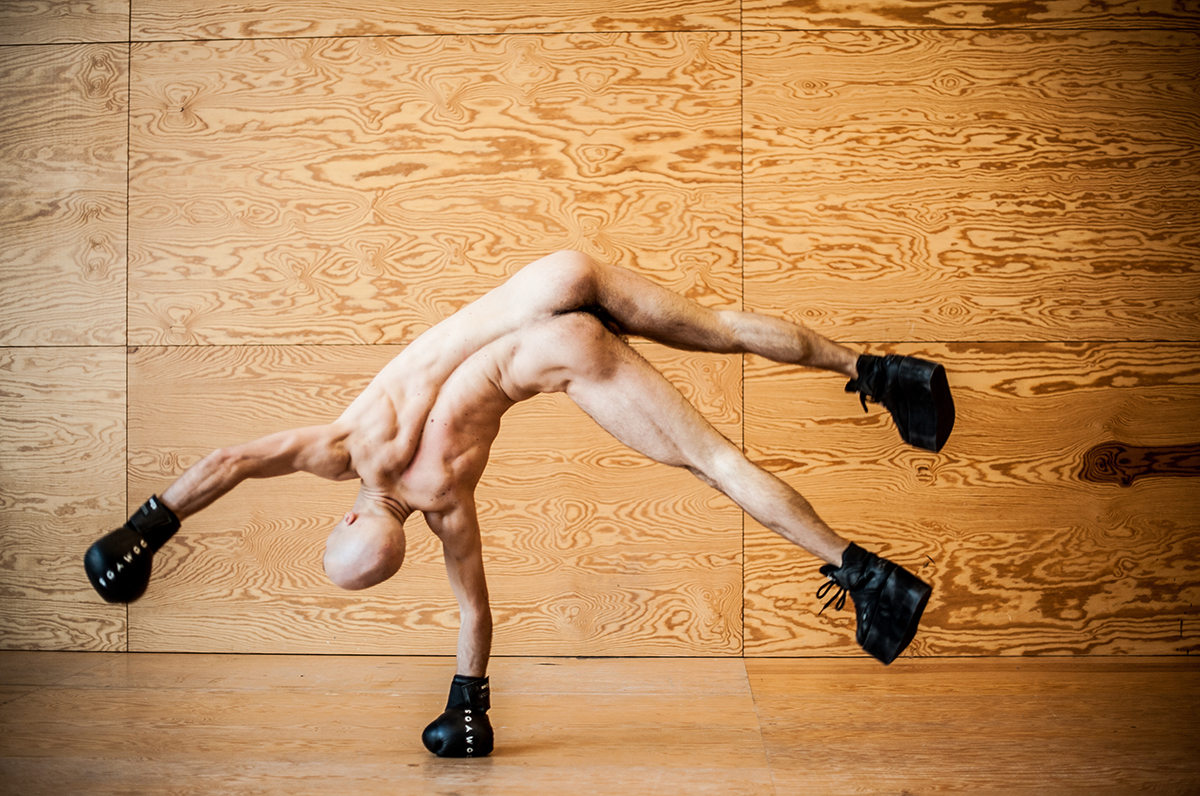 ©Bart-Grietens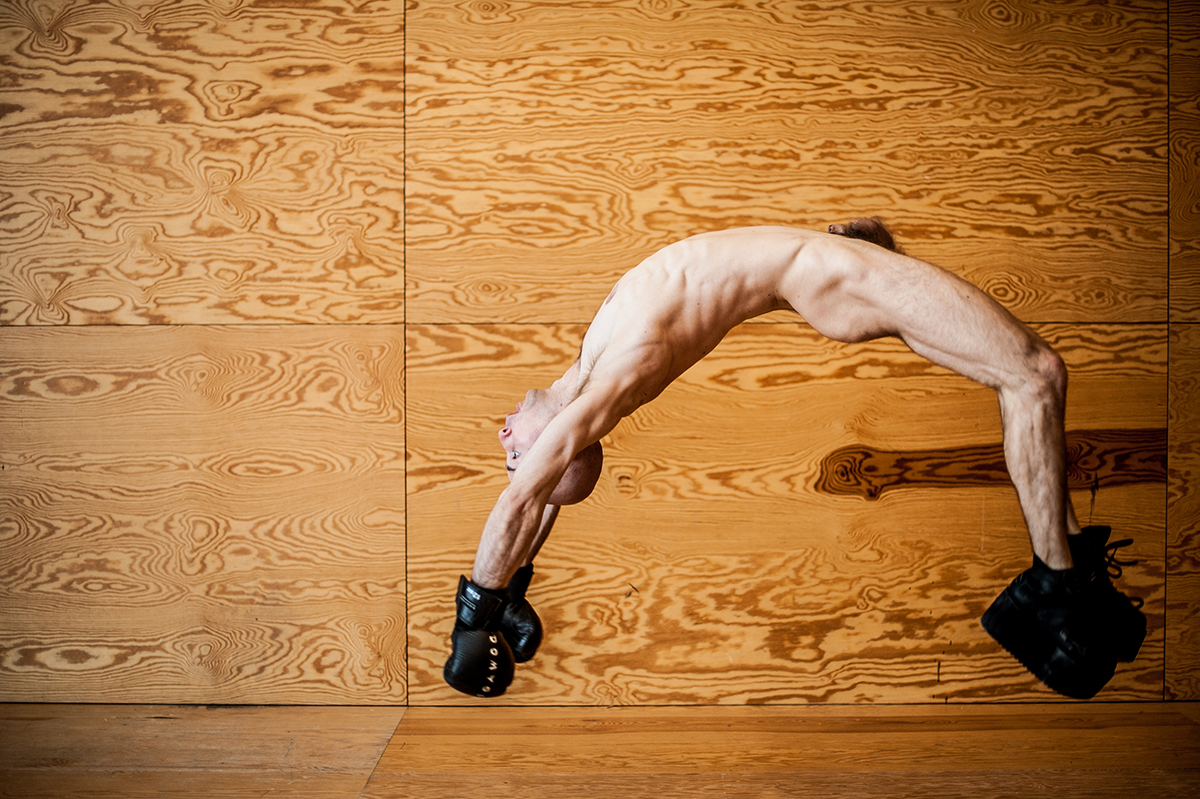 ©Bart-Grietens

Les rires se font rare mais ressurgissent par instants, dédramatisant l'immense solitude. On se détache du corps et on perçoit alors l'homme et sa quête, sa lutte dans l'acceptation d'un corps. Où s'arrête le corps pour devenir vraiment l'homme ?

Le public, ému, gagne en empathie. S'attache-t-il simplement au corps ? À l'artiste ? Où à l'homme, inconnu jusqu'alors ?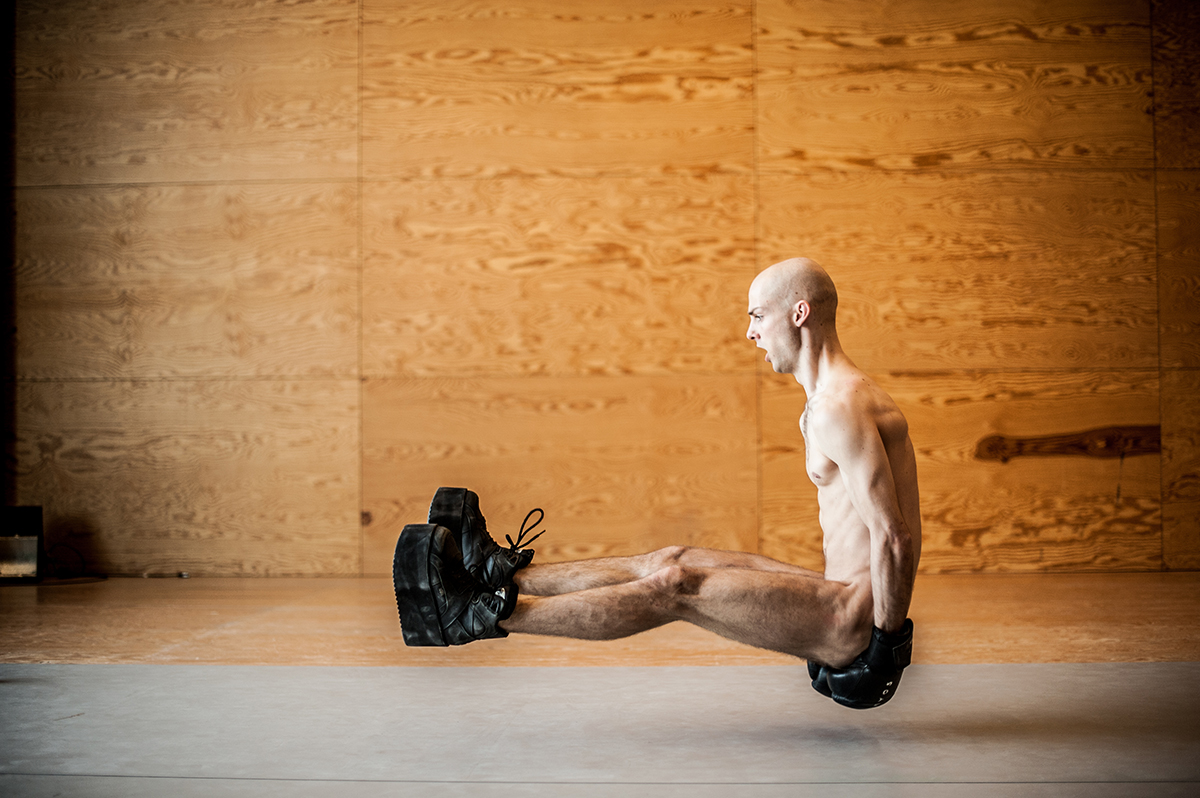 ©Bart-Grietens

Et puis le cycle prend fin. Touché, d'un seul élan, le public applaudit à tout rompre et l'homme salue.
Lentement, les événements s'enchaînent. Le silence se fait et l'homme range, les lumières s'allument et l'homme tournoie, du bruit en régie, des spectateurs qui se lèvent, des techniciens sur scène et l'homme qui reste là, nu, toujours. 10 minutes passent et la moitié de la salle s'est vidée. 20 minutes passent, toujours cette petite musique mélancolique. Que dois-je faire ? Le spectacle est terminé, et alors ? On applaudit et tout doit s'arrêter là ? En douceur et en fracas.
Tant que je serai là, que nous serons tous là, l'homme devra rester là lui-aussi. Mais comment l'abandonner ? Beaucoup attendent qu'il tourne le dos pour ne pas partir face à lui. Lâcheté ou politesse ? D'autres tentent encore d'applaudir pour créer une fin, partir sur les codes connus, mais rien n'y fait. Il faudra donc s'y faire.
Je ne veux pas le laisser là, seul à nouveau. Et, égoïstement, je ne veux pas rater la fin ! Quoi de plus frustrant que de rater la fin d'une histoire ? 30 minutes passent, nous sommes une dizaine. J'ai honte de rester, j'ai honte de partir.
Je marche dans la rue et je pense toujours à l'homme, à ce corps, à cette solitude. Une semaine passe et je vois toujours l'homme tournoyer. L'histoire ne sera jamais finie.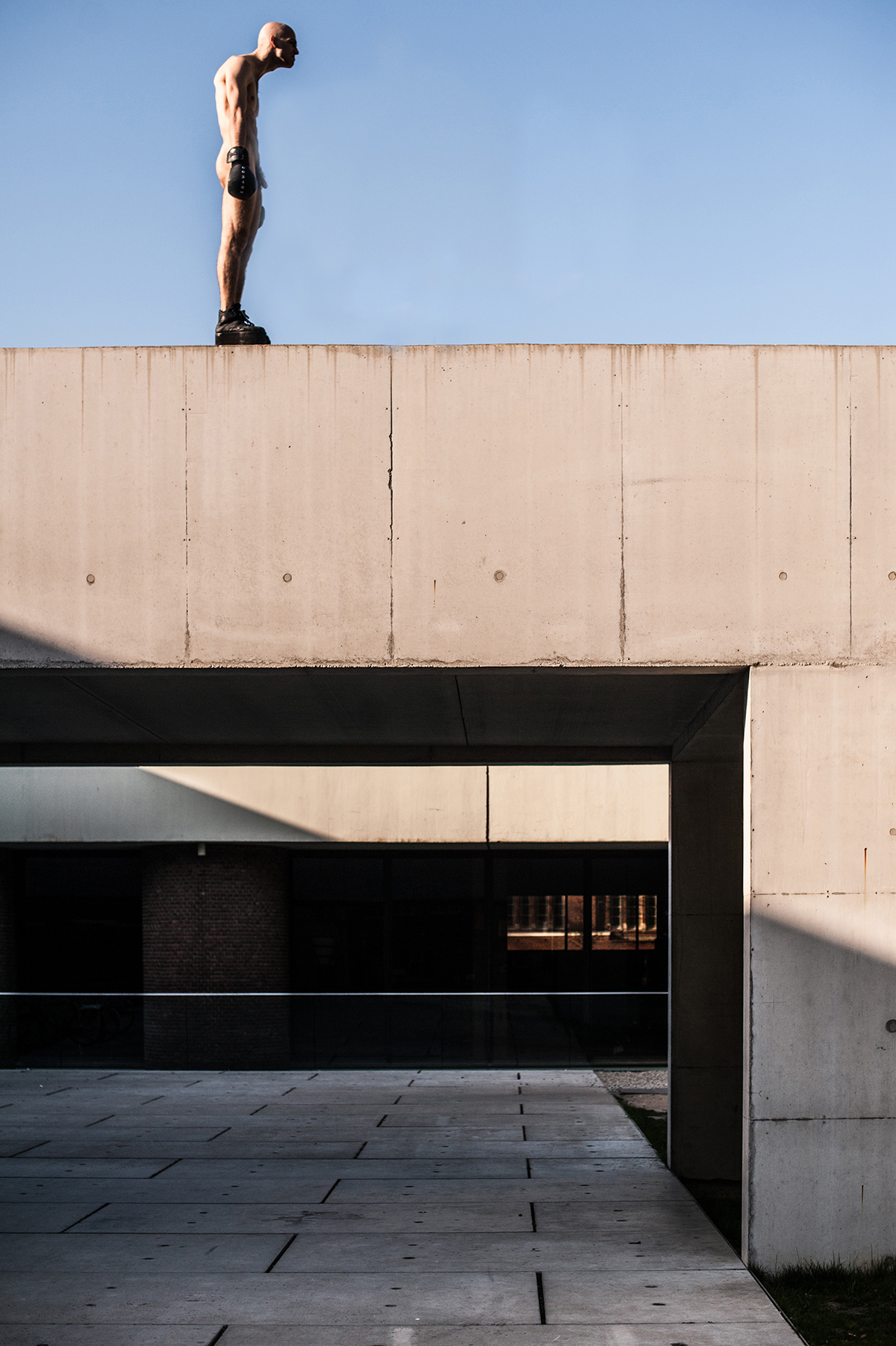 ©Bart-Grietens


Vu au Théâtre des deux Rives, CDN de Rouen Normandie, le 17-03-2019, dans le cadre de la journée "Cirque à Poil" et du Festival Spring.

Création Alexander Vantournhout et Bauke Lievens
avec Alexander Vantournhout
dramaturgie Bauke Lievens
aide à la dramaturgie Dries Douibi, Gerald Kurdian
regards extérieurs Geert Belpaeme, Anneleen Keppens, Lore Missine, Lili M. Rampre, Methinee Wongtrakoon
technique Tim Oelbrandt , Rinus Samyn
musique Arvo Pärt
costumes Nefeli Myrtidi, Anne Vereecke
photographies Bart Grietens
diffusion Frans Brood Productions
collaboration avec Bauke Lievens dans le cadre du projet de recherche Between being and imagining towards a methodology for artistic research in contemporary circus, financé par KASK School of Arts, Gand (BE).